Sep 10, 2020 12:41 PM Central
Liz Bourguet
Avoiding GLUTEN and DAIRY not only keep us on track with asthma recovery, but also help with or children's behavior and attitude.
Additionally staying away from gluten and dairy and help with other issues. Our girls are both have their challenges. Language and speech delays, sensory issues and ADD. When we stay on track with a dairy and gluten free diet, they do so much better!
We have quick snacks on hand that are our go to breakfast options. One of our faves is Einkorn Cereal with almond milk. It's naturally gluten free and delicious! Einkorn is fine for those avoiding gluten, but it is not recommended for people with celiac disease.

Another go to breakfast is pasture raised eggs with blueberries and einkorn toast. The girls also love apple slices with peanut butter.

We ran out of cereal, and the girls were tired of eggs, so I came up with a super quick and yummy dairy and gluten free breakfast! The girls love pancakes, but making pancake after pancake when you're short on time, isn't optimal. So we made a baked pancake! We had fresh peaches on hand which made this dish super yummy!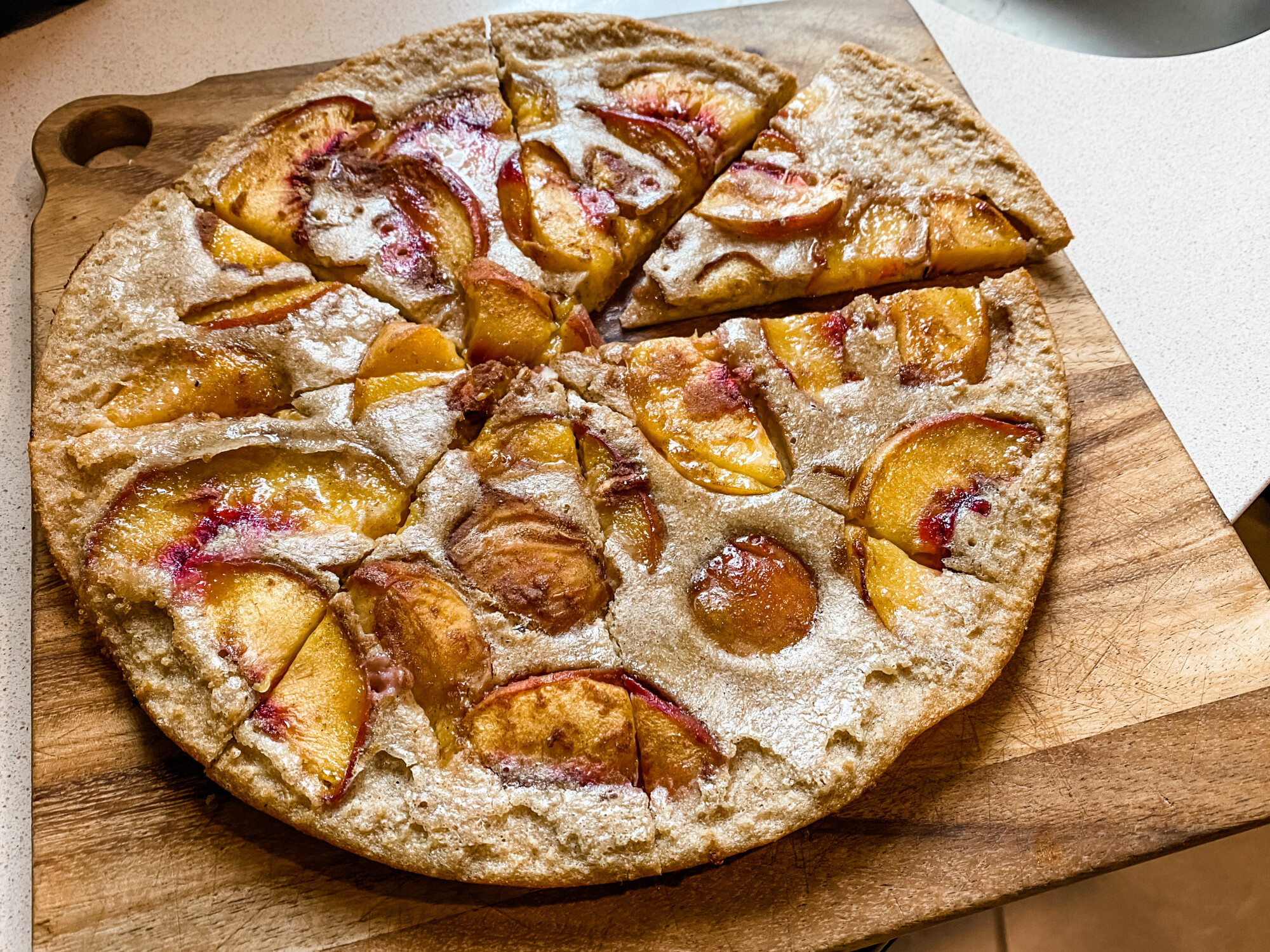 We combined einkorn flour, almond milk and eggs along with vanilla extract, and salt. We then added it to a cast iron pan coated in butter, and topped the skillet pancake with sliced fresh peach, cinnamon and agave mixture.

Baked it and served! It was a huge hit!


Here's the recipe:


Ingredients:
1 Tablespoon organic butter
2 large peaches cut into slices
1 table spoon agave
3/4 teaspoon cinnamon
3 pasture raised eggs
1/2 cup almond milk
1/2 cup einkorn flour
1 drop vanilla extract
1 pinch sea salt

Directions:
Step 1
Preheat oven to 425 degrees
Step 2
Melt butter in cast-iron skillet in the pre-heating oven
Step 3
Combine peach slices, agave and cinnamon in a bowl, gently toss to coat the peaches well
Step 4
Beat eggs, almond milk, einkorn flour, vanilla extract, sea salt together in a bowl, until batter is well combined. Pour into skillet and top batter with peach mixture.
Step 5
Bake 20 minutes and ENJOY!

If you or someone you love is suffering, we want to help! We have a community of others, just like you, who are embracing natural ways to improve respiratory health. We share up-to-date resources, to help you navigate the sometimes tricky waters, in learning what foods, products and nutrionals are helpful and safe, and which are not.
Join our FREE Group NOW!


We are sharing our experiences with you. Please be sure to consult your doctor.
The information in this video is not intended to diagnose, treat, cure, or prevent any disease or illness.

xoxo Liz

Found this information helpful? Then you you will LOVE my 3 step formula to improve lung health!
Check it out right here!